A lot of Sci-fi modelers have built this kit more than once, first as a novice and again years later after refining their modeling skills. I decided to treat my third attempt at building the AMT Enterprise a little more seriously than I had in the past. I would do some research to learn as much as I can about the "real" Enterprise, the 11 foot model used to portray the starship on TV. I would also do some extra work to make a more accurate model rather than build the kit "out of the box" and would add lights for a more realistic and exciting look.

No small feat - this old starship kit has a lot of accuracy issues. Even after being retooled a few times over the course of its run, this kit is at best only a fair representation of the actual Enterprise filming "miniature." Although the basic shape and details are there, it's obvious that the designers of the kit were not concerned with accuracy as long as they got the overall look right. Getting the kit to really look like the starship that was seen on TV would take a little effort. My work was cut out for me.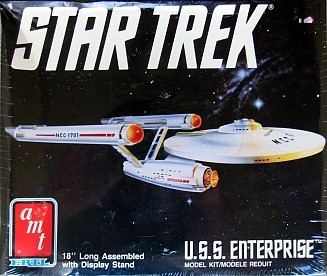 The accuracy question is arguable. A build-up of the AMT kit is said to have been used to depict the Enterprise seen out the window of Space Station K-7 in the Star Trek episode "The Trouble With Tribbles." If this is true, one can say that the AMT kit is spot-on accurate.