In the late 1980s, home computers had not yet become commonplace and Internet Access was something that the U.S. Department of Defense and Al Gore had not yet made available to the general public. (We had cable TV, Compact Discs and drip coffeemakers - we weren't total barbarians!) Today, however, the Internet makes available many resources for model research. Without listing them all, two excellent websites are Starship Modeler and CultTVMan. Both of these sites contain a good number of articles and have links to many other websites that offer a wealth of information on any topic Trek.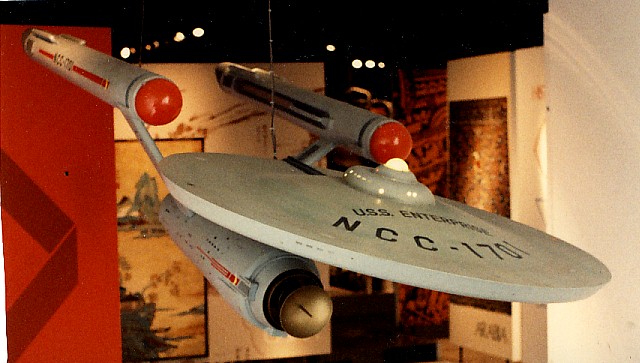 When I went to the Smithsonian Air and Space Museum in 1989, the model was in poor condition. Along with missing pieces and water stains on the paint, nearly all of the lights had burnt out. The spinning effect of the Warp engines was replaced by a very sad looking blinking light effect. The museum's restoration of the model in the '70s also left it with some badly inaccurate parts, particularly the main sensor dish and the illuminated saucer domes.
This was still a better look at the model than anything else that was available at the time. All of the color stills available were simply photos taken directly from the TV which were not sharp enough to be of much use. Even in high quality video prints of the show, the fact that the ship was always shown in motion made it difficult to discern details that were clearly visible when looking at the actual model.
Despite being hung from the Museum's ceiling about 15 feet off the floor in a narrow passageway, I was able to take many useful research photos. Most were taken from directly underneath and some were taken from a stairway which gave a good, if distant view of the front of the model.