In 1992, the Smithsonian Institution National Air and Space Museum hosted a special exhibit celebrating 25 years of Star Trek. As part of that exhibit, the 11 foot filming model of the Enterprise was restored by Ed Miarecki of Sci-Fi Modeling Associates. Ed re-wired, re-lit and re-painted the big model and replaced incorrect or missing parts to get it to look as it did in the 1960s when the show's effects shots were filmed.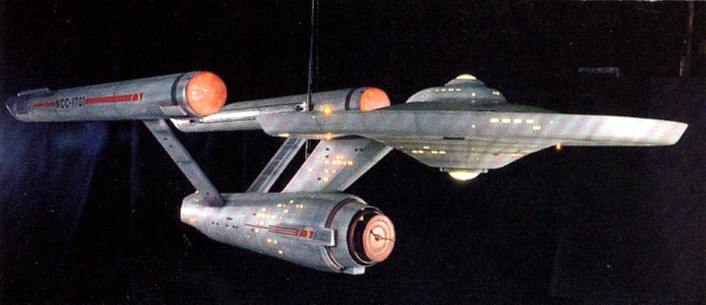 Above photo from Air & Space Magazine
Since I was also conducting a restoration of sorts, I wanted to get a look at the newly restored studio model with the idea of further improving the accuracy of my own Enterprise. In late 1992, I returned to Washington DC and took a lot more photos.
The latest restoration left the Enterprise looking much different from when I last saw it in 1989. All of the lights were lit and it was nice to see the spinning warp drive effect working. New parts and details were fabricated to correct inaccuracies. Most notably, rather than being painted a single, unbroken shade of gray, the big model now sported a multi-tone paint job, showed some weathering and had a prominent network of grid lines covering most of its surface.