---

---
ADVANCED MODELER SYNDROME (AMS):
The need or desire to superdetail every model, often at the expense of completing any.
From Fine Scale Modeler magazine's "Scale Modeling Glossary" (Nov. 2011)

The amount of work that goes into scratch-building a model of a subject not available as a kit is directly proportional to the likelihood that a kit manufacturer will soon release a full kit of that very subject and in the same scale.
Bell X-1
and
EB-29 Mother Ship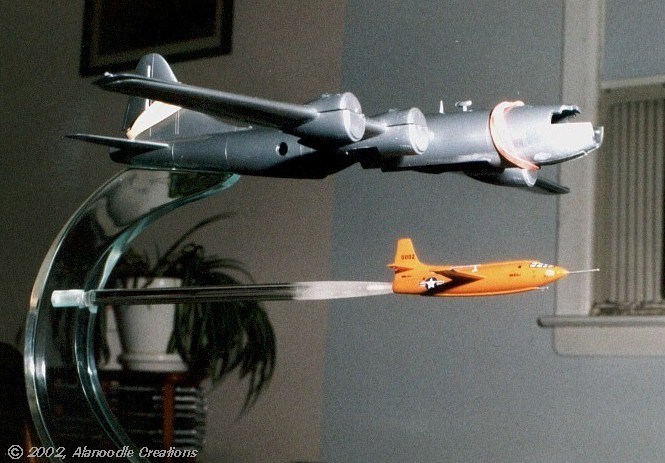 This would eventually be a vignette depicting the launching of the Bell X-1 rocket plane from the B-29 "Mother Ship." Academy-Minicraft's 1/144 scale B-29A Superfortress kit is being converted to the carrier ship with a scratch-built X-1 in the same scale.

The project was started in 1999. The X-1 was completed one year later and can be seen HERE. It has a pair of tiny ceramic magnets built into it to hold it in the B-29 launch bay. (It works!) The B-29 has a completed launch bay and new engine exhausts were cast out of resin. I also received really nice Alps-printed decals for the Mother Ship nose art from Mark Fergel of PCModeler.com. The decal was printed from the artwork below.
The B-29 may one day be finished. My motivation is that I already made a really nice display stand for the pair, seen in the image below.

As is the case with many scratch-building projects, there is now a molded plastic kit of the X-1 in 1/144 scale. Also available is a cast-resin conversion kit for the B-29 Launch Bay and nose art in the same scale.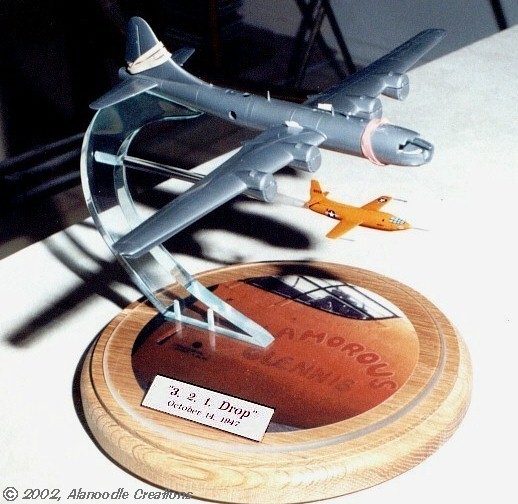 ---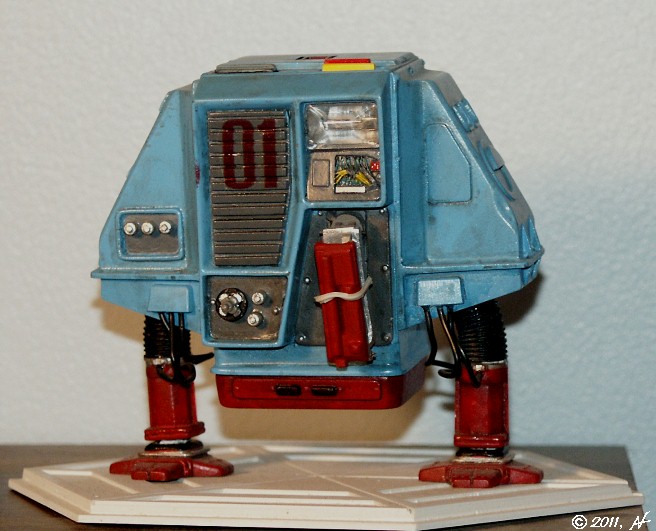 This resin kit of the little robot from the 1972 film Silent Running is by Posigrade Creations. This model was started in 2001 and is very close to completion.
---

This is Lindberg's kit of the sleek X-Plane, started in 2008, also close to being completed. Instead of using the kit's decal sheet, markings were created using basic drawing and word processing software and were laser-printed onto clear decal film.
---
The Flying Sub
from Voyage to the Bottom of the Sea
| | |
| --- | --- |
| | Moebius Models originally produced this 3 inch long kit to be boxed with their big Seaview and later released it as a stand-alone kit. This model needs just a little clean-up to be finished. |
---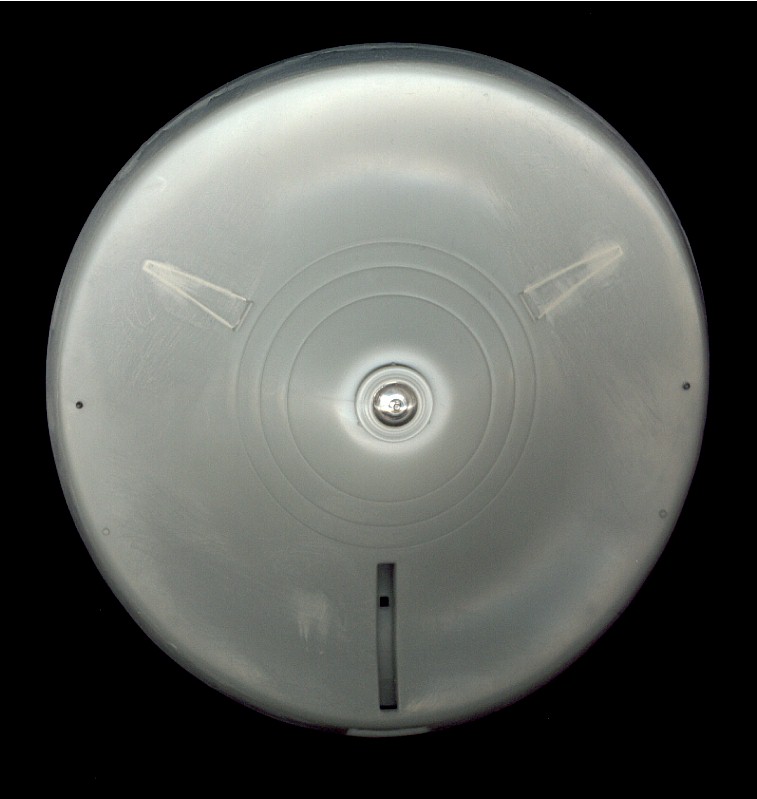 Polar Light's 11 inch Enterprise kit is being built into a 1/12 scale model of the Enterprise studio model. The big model was filmed from the right side to there is no detail on the left except for a rectangular opening on the side of the lower hull for wiring to enter and exit the model.

Plans are to depict the model with lights off and a warp engine dome removed, showing the lighting underneath.

While my bigger AMT

Enterprise

is a depiction of the fictional starship seen on TV, this would be a replica of the 11 foot long model which spent its less-than-5-year mission on a filming stage in Hollywood.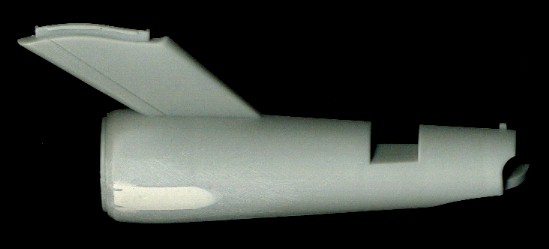 ---

This is Round2 Polar Lights' kit of the famed Bat-Car. It is currently and slowly being worked on.

---
And then there's "The Pile." Every scale modeler has one. This is the collection of un-built model kits that just gets bigger every year. I think this is a pretty complete list. I'll add others as they're found.


Airfix: A
ston Martin DB5, 1/35 scale



Dragon

:
North American X-15, 1/144 scale



GEOmetric Designs/Max Factory Custom Craft:
Cyclops (7th Voyage of Sinbad)
Hasegawa:
F4U-1D Corsair, 1/72 scale



Horizon:

ED209 (Robocop)



Millennia Models International:

Captain Gordon T. Shumway (ALF)

Mobius:
Batman (Adam West), 1/8 scale;
Space Clipper (2001, Orion III), 1/200 scale;
The Mighty Kogar/Tracy the Gorilla
New Ware
(resin)
:
Titan II - Gemini, 1/144



RealSpace Models:
Soyuz, 1,72




Round2/Polar Lights:

U.S.S. Enterprise (Refit); U.S.S. Enterprise (ST: Discovery)

Special Hobby:
Bell X-1A/C, 1/72 scale
Advanced Modeler Syndrome affects modelers worldwide. Won't you help?
Please give generously to the Alanoodle Wants To Buy More Plastic fund.
We accept cash, Paypal and anything that contains toluene or methylene chloride.
---